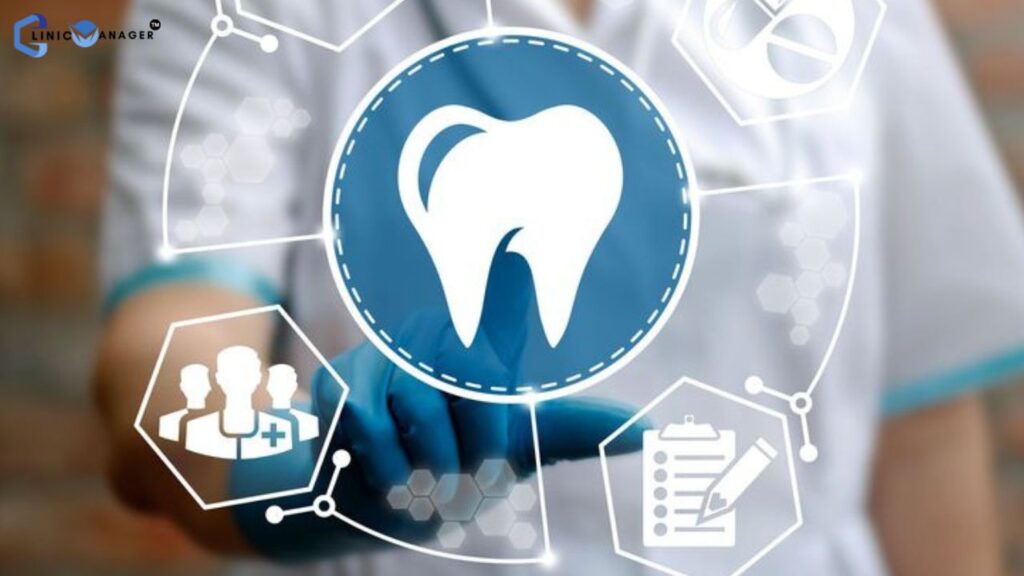 Every business in today's digital age needs a solid online presence in every industry. The field of dentistry is no exception. With more and more people turning to the internet to find dental services, dentists need to invest in digital marketing strategies to attract new patients and grow their practice. In this article, we will explore the world of digital marketing for dentists and discuss practical strategies to boost your online presence, enhance your brand, and reach a wider audience.
Why is Digital Marketing essential for Dentists?
Digital marketing is essential for dentists and doctors for the following reasons:
Online Visibility: Digital marketing techniques improve dentist doctors' online visibility, making it easier for potential patients to find them when searching for dentist services.
Patient Education: Digital marketing allows doctors to educate patients about dental problems, treatment options, and post-operative care, empowering them to make informed decisions about their health.
Trust and Credibility: Through digital marketing, doctors can build trust and credibility by sharing valuable content, demonstrating expertise, and showcasing patient testimonials.
Targeted Marketing: Digital marketing enables doctors to target specific patient demographics and geographical locations, ensuring their marketing efforts reach the most relevant and high-potential patient groups.
Competitive Advantage: By implementing digital marketing strategies, doctors can differentiate themselves from competitors and capture the attention of potential patients actively seeking dental care.
Measurable Results: Digital marketing provides measurable results and analytics, allowing doctors to track the effectiveness of their marketing campaigns and make data-driven optimization decisions.
Patient Engagement: Digital marketing facilitates engagement through online platforms, fostering stronger patient relationships and improving overall patient satisfaction.
Cost-Effectiveness: Digital marketing is often more cost-effective than traditional marketing methods, offering a higher return on investment for doctors' marketing efforts.
Online Reputation Management: Through digital marketing, doctors can actively manage their online reputation by responding to patient reviews and addressing any concerns promptly and professionally.
Benefits of Digital Marketing for Dental Practices
Digital marketing offers several benefits for dental procedures, such as:
Increased online visibility: Dentists can increase their visibility in search engines through digital marketing.
Targeted advertising: With digital marketing, dentists can target specific demographics and geographical locations, ensuring their marketing efforts reach the right audience.
Enhanced patient engagement: Digital marketing allows dentists to connect and engage with patients through various channels, fostering stronger relationships and trust.
Cost-effective marketing: Compared to traditional marketing methods, dentists with limited budgets should consider digital marketing because it offers high returns on investment (ROI) at low costs.
Measurable results: Digital marketing provides comprehensive analytics and tracking tools, allowing dentists to measure the success of their campaigns and make data-driven decisions.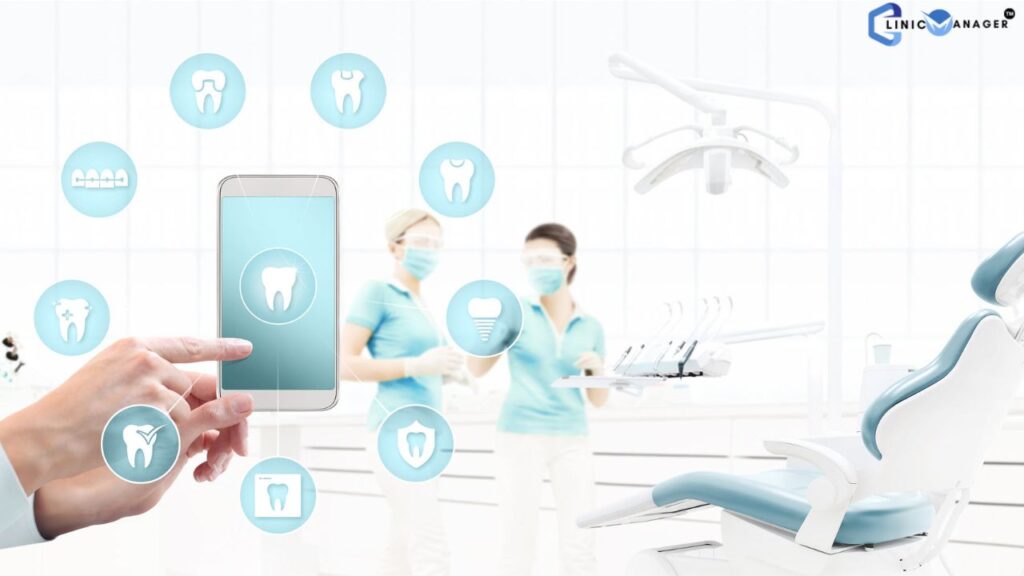 Discover What Digital Marketing can do for your Dentist Practice.
Dentist digital marketing has immense potential to transform how dental practices attract and engage patients. By utilizing digital marketing strategies effectively, dentists can tap into a vast online audience, establish themselves as industry experts, and build strong relationships with their patients. Let's explore the full potential of dentist digital marketing:
Building an Engaging Dental Website
Creating a visually appealing website
The dental website serves as the virtual front door to your practice, and making a positive first impression is essential. Design a visually appealing website that reflects your brand and showcases your expertise. Use high-quality images, a clean layout, and intuitive navigation to provide visitors with a seamless user experience.
Optimizing your website for search engines
SEO enhances the visibility of your website on search engine results pages (SERPs). Incorporate relevant keywords, meta tags, and informative content throughout your website to improve its SEO value. Consider hiring an SEO expert to optimize your website for better search engine performance.
Leveraging Social Media for Dental Marketing
Choosing the right social media platforms
With social media platforms, dentists can engage with their target audiences more directly and personally. Identify the platforms most popular among your ideal patients and establish a strong presence there. Facebook, Instagram, and Twitter are commonly used media in the dental industry.
Creating engaging content for social media
To engage your social media audience effectively, create compelling content that educates, entertains, and informs. Share dental hygiene tips, before-and-after case studies, patient testimonials, and updates about your practice. Use visual content like images and videos to capture attention and drive engagement.
Search Engine Optimization (SEO) for Dental Practices
Understanding the basics of SEO
You can improve your website's visibility in search engines by optimizing it for SEO. To enhance your website's SEO, focus on keyword research, on-page optimization, and building high-quality backlinks by aligning your website with SEO best practices. Search engine rankings can be improved.
Optimize your website for local search.
Local SEO is crucial for dental practices to attract patients in your immediate vicinity. Add your location to meta tags, content, and headings to make your website more search-engine friendly. Create a Google My Business profile and encourage patients to leave reviews, as they can boost your local search rankings.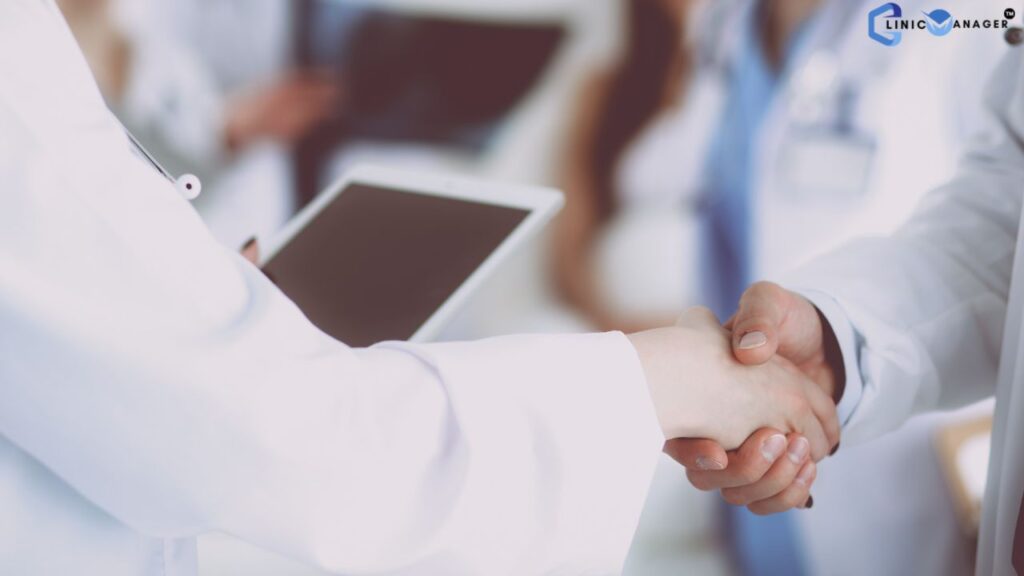 Pay-Per-Click (PPC) Advertising for Dentists
Benefits of PPC advertising for dental practices
PPC advertising offers dentists the opportunity to display targeted ads on search engine results pages and other online channels. This method provides immediate visibility and produces quick results. Pay-per-click marketing is cost-effective because you only pay when someone clicks on your advertisement.
Creating effective PPC campaigns
When creating PPC campaigns, target relevant keywords related to dental services. Craft compelling ad copy and ensure your landing pages are optimized for conversions. Monitor your campaigns regularly, adjust bids, and refine your targeting to maximize ROI.
Content Marketing Strategies for Dental Professionals
The power of informative and engaging content
A content marketing strategy involves creating and sharing valuable content to attract and retain patients. Produce informative articles, blog posts, and educational Videos that address common dental concerns and provide solutions. Your audience will trust you more if you position yourself as an expert.
Blogging for dental practices
Maintaining a blog on your website lets you regularly publish fresh content and attract organic traffic. Write blog posts on topics such as oral hygiene tips, dental procedures, and the latest advancements in dentistry. Incorporate relevant keywords into your blog posts to improve their visibility in search engine results.
Online Reviews and Reputation Management
The importance of online reviews for dentists
Online reviews significantly impact a dental practice's reputation and patient decision-making. Encourage satisfied patients to leave reviews on platforms like Google My Business, Yelp, and Healthgrades. Respond promptly to positive and negative reviews, showing that you value patient feedback.
Managing and improving your online reputation
Monitor online platforms for mentions of your practice and promptly address any negative feedback. Highlight positive reviews on your website and social media channels. You can build trust and attract more patients to your practice by actively managing your online reputation.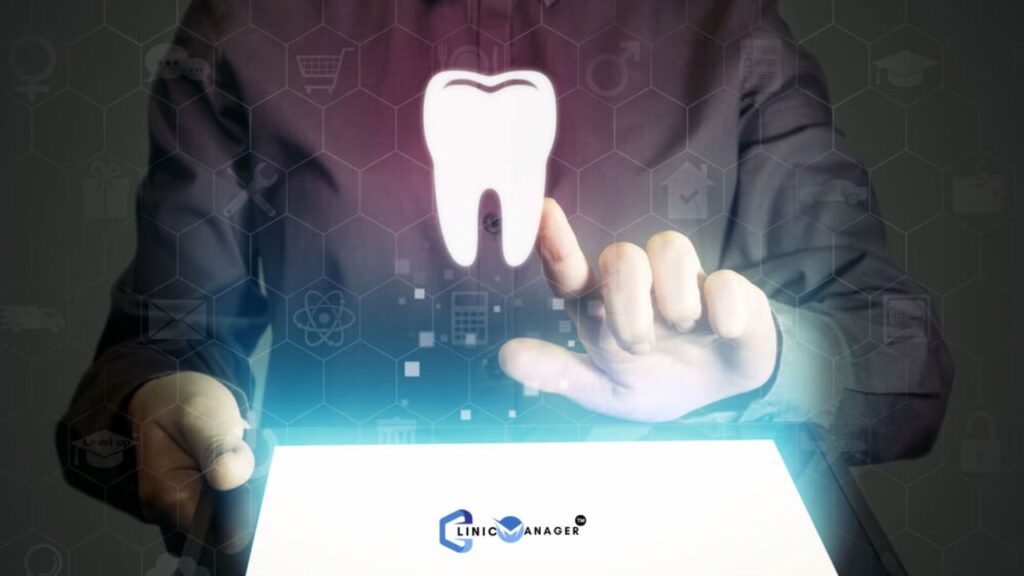 Email Marketing for Dental Practices
Building an email list of dental patients
It effectively builds relationships with patients and attracts new ones via email marketing. Offer valuable incentives, such as dental tips or exclusive discounts, to encourage patients to sign up for your email list. Ensure your email marketing complies with data protection regulations like GDPR.
Creating engaging email campaigns
Personalize the content when sending out email campaigns to make it relevant to each recipient. Share educational articles, oral hygiene tips, and updates about your practice. Use eye-catching subject lines and compelling calls to action to increase open and click-through rates.
Video Marketing in the Dental Industry
Harnessing the power of video content
Video content is highly engaging and can effectively communicate your expertise and services. Create videos showcasing dental procedures, patient testimonials, and oral hygiene tips. Upload your videos to video-sharing websites like YouTube and Vimeo.
Creating educational and promotional videos
Educational videos can help patients understand complex procedures, alleviate dental anxieties, and encourage them to seek treatment. Promotional videos can highlight your Practice's unique features and services. Ensure that your videos are professionally produced, informative, and visually appealing.
Mobile Marketing for Dentists
The rise of mobile usage in dental searches
Optimizing your digital marketing efforts for mobile devices is crucial with the increasing use of smartphones. Mobile-friendly websites, responsive designs, and mobile apps can improve the user experience for patients accessing your website on their smartphones or tablets.
Optimize your digital marketing for mobile devices
Check your mobile website's load speed and navigation so it's easy to read and understand. Implement click-to-call buttons and online appointment scheduling to make it convenient for patients to contact your practice. Consider mobile advertising strategies like location-based targeting to reach potential patients on their mobile devices.
Marketing Automation for Dental Practices
Streamline your marketing efforts with automation.
Marketing automation tools can help simplify repetitive tasks, such as email campaigns, social media scheduling, and lead nurturing. Automate appointment reminders, follow-up emails, and other communication to save time and improve efficiency.
Choosing the right marketing automation tools
Select marketing automation tools that integrate seamlessly with your existing systems, such as your website and customer relationship management (CRM) software.
Digital Advertising Strategies for Dentists
Exploring various digital advertising channels
Digital advertising allows dentists to target specific audiences and reach potential patients at different stages of the decision-making process. Consider using search ads, display ads, social media ads, and remarketing campaigns to expand your reach and increase brand visibility.
Developing effective digital ad campaigns
When creating digital ad campaigns, define your goals, target audience, and budget. Craft compelling ad copy, use eye-catching visuals, and include a solid call to action. Continuously monitor and optimize your campaigns to ensure maximum effectiveness.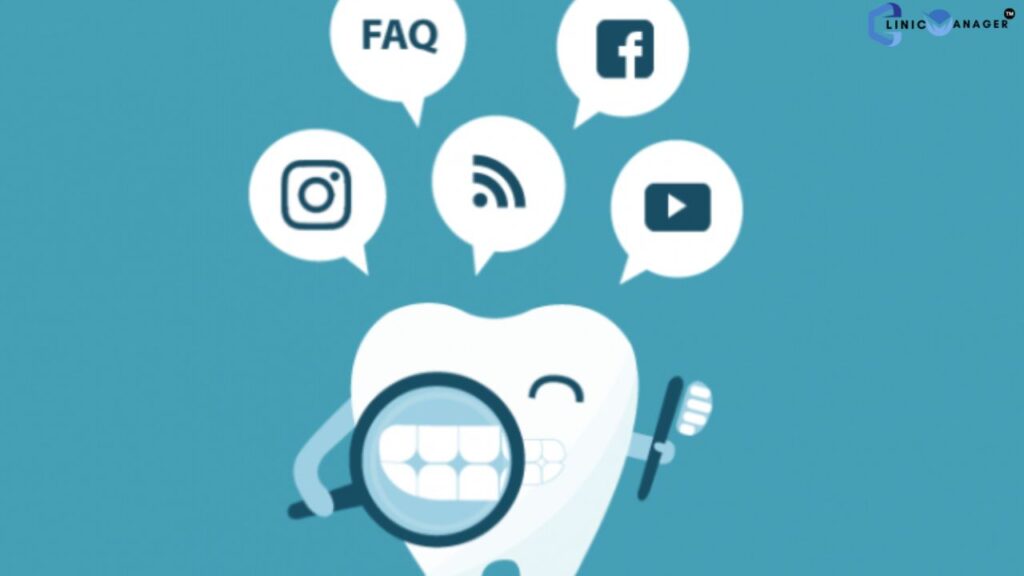 Tracking and Analyzing Your Digital Marketing Efforts
Setting up analytics tools for dental practices
Implement your website's analytics tools, such as Google Analytics, to track visitor behaviour, traffic sources, and conversion rates. Use UTM parameters to track the effectiveness of your various marketing channels. These insights will help you make data-driven decisions and refine your marketing strategies.
Analyzing key metrics to measure success
Monitor key metrics, such as website traffic, bounce rates, conversion rates, and cost per acquisition (CPA), to assess the success of your digital marketing efforts. Identify areas for improvement and make adjustments accordingly. Regularly review your analytics reports and adapt your strategies based on the data.
What is the amount that a dentist spends on Digital Marketing?
Digital marketing strategies include search engine marketing (SEM), search engine optimization (SEO), social media advertising, content marketing, and email marketing. For each procedure, budgets must be allocated for advertising campaigns, website design and maintenance, content creation, and marketing tools.
According to industry reports, healthcare organizations allocate a percentage of their marketing budget to digital marketing. Digital marketing may account for 10% to 30% of a practice's budget. It's important to note that this figure can differ depending on individual practice goals, the competitive landscape, and available resources.
Choosing the right digital marketing strategy requires orthopedic surgeons to assess their marketing goals, target audience, and available resources. By collaborating with experienced digital marketers and agencies, they can develop customized strategies and maximize ROI.
Services We Offer for Specialized Digital Marketing
Patient Lead Generation: At ClinicManager, we have mastered the art of generating daily 10-12 patient inquiries by strategically utilizing Google Ads and Facebook Ads, and various campaign types and ad formats.
Medical SEO: At ClinicManager™, we approach medical SEO with a unique and tailored strategy that sets us apart. We understand the specific challenges and requirements of the healthcare industry, and our experienced team utilizes advanced techniques to optimize your website and content for search engines.
Medical Website Development: At ClinicManager™, we approach medical SEO with a unique and tailored strategy that sets us apart. We understand the specific challenges and requirements of the healthcare industry, and our experienced team utilizes advanced techniques to optimize your website and content for search engines.
Social Media Management: ClinicManager stands out in social media management by offering a tailored and results-driven approach. We understand the unique challenges and opportunities in the healthcare industry, allowing us to craft strategies that resonate with your target audience.
Advertisement & Content Shoot: Elevate your advertising and content creation with ClinicManager's location-based shoot and edit services. Our expert team is equipped to capture stunning visuals at your desired location and efficiently edit them to create impactful content.
Landing Page Development: ClinicManager™ stands out in landing page development with a unique approach that sets us apart. Our customized designs cater specifically to the individual needs of healthcare brands, ensuring a seamless blend of creativity and functionality. We go beyond aesthetics by focusing on driving conversions through strategic content placement, persuasive call-to-actions, and intuitive user experiences.
Online Reputation Management: ClinicManager goes above and beyond in providing exceptional online reputation management services tailored to the healthcare industry.
Unlike generic approaches, ClinicManager understands healthcare reputation management's unique challenges and sensitivities.
News Press Release: ClinicManager™ provides comprehensive support to doctors, clinics, hospitals, and healthcare brands in increasing their visibility by publishing articles on various news websites, from small to large platforms. Our experienced team of professionals understands the healthcare industry dynamics and utilizes strategic connections to ensure your articles reach the right audience.
Conclusion
In conclusion, dentists can grow their practice and attract new patients with digital marketing. SEO, social media marketing, content marketing, and email marketing are some strategies dentists can use to enhance their online visibility and establish themselves as industry experts. Dental professionals can gain long-term success by embracing digital marketing in today's digital landscape. You can watch your practice thrive in the digital era if you harness the power of digital marketing as a dentist seeking to expand your practice.